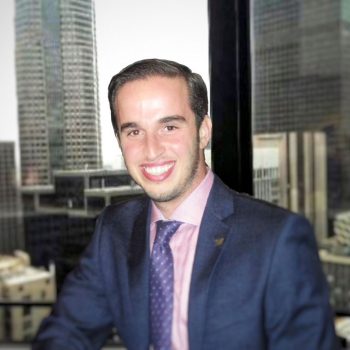 Rodney Yadidi's post-graduate dream became reality when he established his law firm. He founded the firm with a vision to expand access to legal care to any person who was wronged by their employer or injured as a result of an incident. Theory Law APC provides multiple methods of communication for access to an attorney and streamlines legal services. Rodney hopes to have the opportunity to serve each person a unique, individual focused approach to legal care. Rodney aggressively advocates on behalf of each person he represents and is not afraid to go to court. When he's not working, he enjoys spending time with his wife and two kids, playing basketball, and doing one random act of kindness a month.
"We are all a conversation or an act away from changing each other's lives. To be able to change a person's life in a positive way is a great feeling."
Rodney Yadidi is an award winning employment and personal injury attorney, who has helped his clients reach a satisfactory resolution in each of their legal matters. As an attorney of Theory Law APC, Rodney has represented people throughout Northern and Southern California.
Rodney became a lawyer to help people and protect their rights. Whether the person was wrongfully fired or injured in a car accident, his passion to make it right is boundless.
As a first generation American, Rodney was raised in Los Angeles. In the 70s, his parent's immigrated to the U.S. in search of better opportunities for their family and to avoid oppression. Throughout his life, Rodney's parents instilled in him qualities to challenge himself to always learn and improve, be professional, and to serve others when help is needed.
He attended the University of California in Riverside where he obtained his Bachelor of Arts degree in History. Following undergrad, Rodney obtained his Juris Doctor from Southwestern Law School in Los Angeles where he was at the top of his class, served as vice-president of the estate planning society and was a member of the moot trial. Shortly after graduating from Southwestern Law School, he earned his license in California.
Rodney has had the invaluable opportunity to practice law at some of the most respected law firms in California, where he protected the rights of California employees and victims who have suffered injuries. Over the years, he has had the privilege of learning from and working alongside some of the most remarkable lawyers.
Theory Law APC is a California based law firm that provides legal care to California employees who were wronged by their employer and victims who were injured as a result of an incident. The firm protects the rights of California employees in all areas of employment law including workplace harassment, discrimination, retaliation, and wrongful termination. It also protects victims of all types of injury related incidents including car accidents, pedestrian injuries, slip and fall injuries at a store or property, and ride share injuries.
Theory Law APC is a truly unique law firm as one that breaks the traditional law firm cookie cutter approach of legal care. It stands out as a people first law firm that focuses on human factors and individual goals and needs. Each person the office helps has access to an attorney and modernized legal services. The approach of legal care at Theory Law APC is one that is individual focused, transparent, and compassionate.
How Can Theory Law Help You?
If you need help regarding a legal matter and would like to discuss it with an attorney, please call (310) 500-0206 or complete and submit the e-mail form below, and the attorney will contact you.